How Do I Introduce a Vizsla To a New Home?
Key Takeaways:
Gradual introductions and a calm environment are crucial for a smooth transition of a Vizsla to a new home.
Positive reinforcement and consistent training can help a Vizsla feel more comfortable and secure in their new environment.
Providing mental and physical stimulation is essential to prevent boredom and promote good behavior in Vizslas.
Patience and understanding are key as Vizslas may take time to adjust to their new surroundings and establish a strong bond with their new family.
So, you've decided to bring home a Vizsla, huh? Well, get ready for a whirlwind of energy, love, and boundless affection! But before you can start enjoying all the joys of raising this amazing breed, you need to know how to introduce them to their new home.
Trust me, as a lifelong Vizsla enthusiast, I've seen it all.
From puppy-proofing your home to establishing routines and building a strong bond, I'll guide you through every step of the way. If you're ready to create a loving and comfortable environment for your new best friend, keep on reading!
| | |
| --- | --- |
| Step | Action |
| 1 | Prepare a designated space for the Vizsla, such as a crate or a separate room, where they can feel safe and secure. |
| 2 | Introduce the Vizsla to the new home gradually, starting with a small part of the house and gradually expanding their access as they become comfortable. |
| 3 | Establish a routine and stick to a consistent schedule for feeding, exercise, and potty breaks. |
| 4 | Give the Vizsla time to explore their new surroundings while providing plenty of supervision and guidance. |
| 5 | Introduce the Vizsla to the other members of the household slowly and under controlled circumstances, ensuring everyone's safety. |
| 6 | Provide the Vizsla with plenty of mental and physical stimulation, such as toys, puzzles, and regular exercise. |
| 7 | Be patient, as it may take some time for the Vizsla to fully adjust to their new home. |
Preparing for the Arrival of a Vizsla
Puppy-Proofing your Home
Puppy-Proofing your Home is important to keep your Vizsla safe and prevent any accidents. Here are some tips:
Remove hazardous items: Keep chemicals, cleaning supplies, and medications out of your puppy's reach.
Secure electrical cords: Puppies love to chew on cords, so make sure to hide or cover them to prevent electric shocks.
Store away small objects: Avoid leaving small items like coins or buttons lying around, as they can be a choking hazard.
Block off dangerous areas: Use baby gates or barriers to keep your Vizsla away from staircases, balconies, or rooms with fragile items.
Hide loose cords: Prevent your puppy from getting tangled or pulling down curtains and blinds by securing loose cords.
Protect your plants: Some indoor plants can be toxic to dogs, so research which plants are safe and keep the harmful ones out of your pup's reach.
Keep trash cans secure: Use trash cans with lids to prevent your Vizsla from rummaging through and potentially ingesting something harmful.
Check for small spaces: Vizslas are curious and can squeeze through small openings. Seal any gaps or holes to prevent them from getting stuck or escaping.
Remember, keeping your home puppy-proofed will ensure a safe and happy environment for your new Vizsla.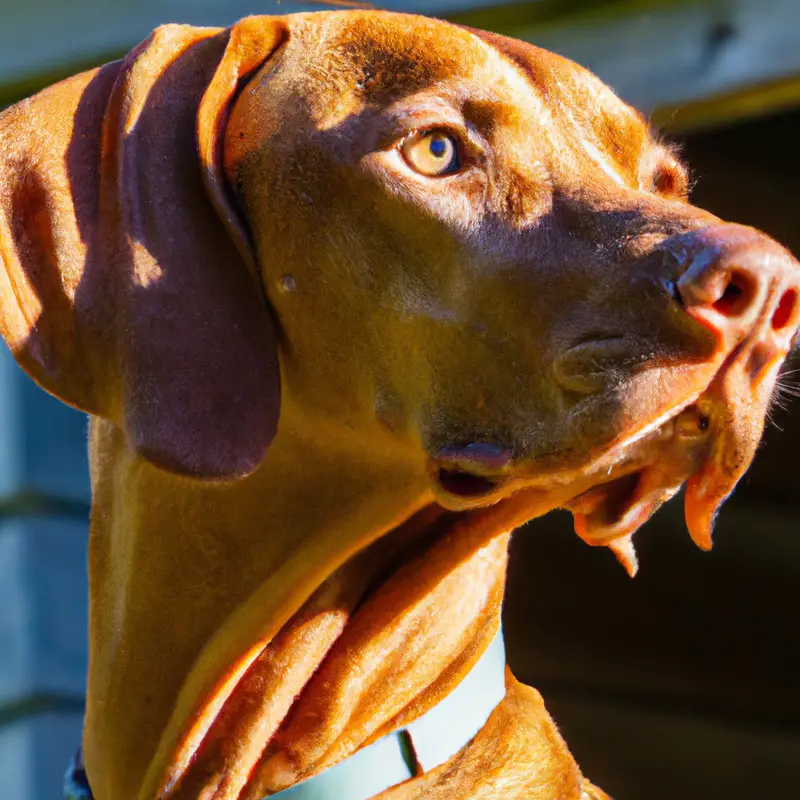 Creating a Comfortable Space for your Vizsla
Creating a comfortable space for your Vizsla is important to help them feel safe and secure.
Start by choosing a quiet area in your home where your Vizsla can have their own bed or crate.
Provide soft bedding and a few toys for entertainment.
Make sure the space is warm, well-ventilated, and free from any hazards.
Consider placing a blanket or towel with your scent in the area to help your Vizsla feel more at ease.
Remember, creating a welcoming space will help your Vizsla adjust to their new home.
Introducing the Vizsla to its New Home
Establishing a Routine
Establishing a routine for your new Vizsla is important to help them settle into their new home. Start by feeding them at the same times each day to create a predictable schedule.
Take them for walks and exercise regularly to keep them physically and mentally stimulated.
Set a bedtime routine to help them relax and sleep well. Consistency and patience are key in establishing a routine that works for both you and your Vizsla.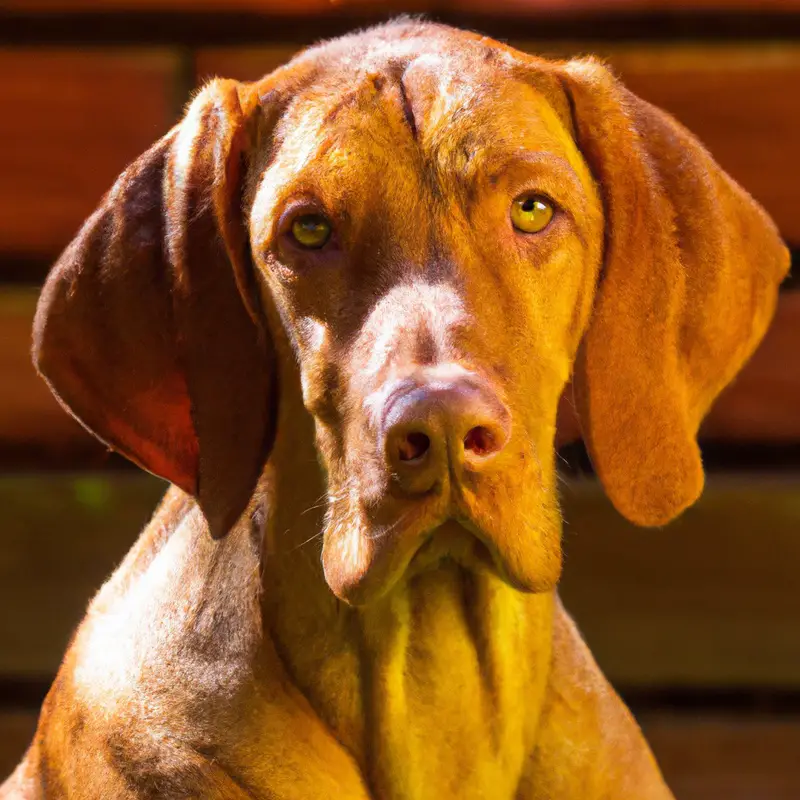 Gradual Introduction to the House
When introducing a Vizsla to a new home, it's important to take a gradual approach.
Start by designating a specific area in the house for the dog, such as a small room or a gated-off section.
This will help them feel safe and secure.
Slowly introduce the rest of the house, one room at a time.
Monitor their behavior and provide plenty of positive reinforcement.
Avoid overwhelming them with too much space or too many new experiences all at once.
Patience is key during this process.
Introducing the Vizsla to Family Members
Introducing your Vizsla to family members should be done gradually to ensure a smooth transition.
Start by allowing each family member to spend some one-on-one time with the dog, using positive reinforcement and treats to create a positive association.
Slowly introduce the Vizsla to other members, making sure to supervise interactions and provide a safe and calm environment.
It's important to give your Vizsla time to adjust and establish trust with each family member.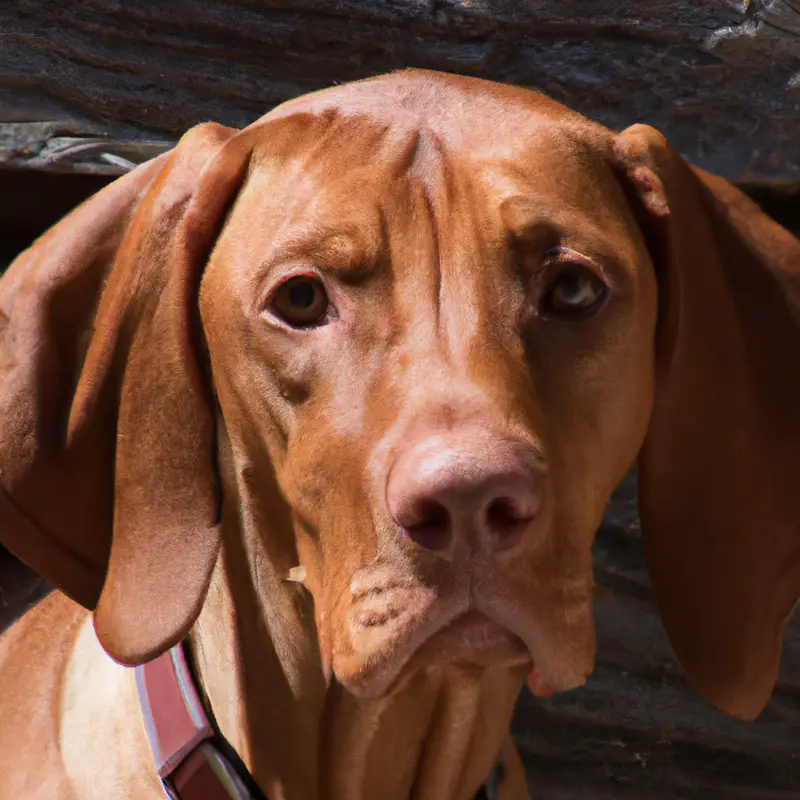 Introducing the Vizsla to Other Pets
Introducing a Vizsla to other pets can be a gradual process.
Start by allowing them to sniff each other's scents through a closed door.
Then, try supervised nose-to-nose introductions.
Make sure to provide equal attention and positive reinforcement to all pets involved.
Keep the atmosphere calm, rewarding good behavior and never forcing interactions.
Patience is key as it may take time for them to feel comfortable together.
Settling in and Bonding with your Vizsla
Allowing Time to Adjust
Allowing time for your Vizsla to adjust to their new home is essential.
Remember that they may feel anxious at first and need time to feel comfortable in their new environment.
Be patient and provide a calm and consistent routine.
Gradually introduce them to different rooms and new experiences, while also giving them plenty of time to rest and relax.
Avoid overwhelming them with too many new people or activities right away.
Bonding takes time, so give them the space to adjust at their own pace.
Offering Structure and Consistency
Offering structure and consistency is key when introducing a Vizsla to a new home. Establish a daily routine for feeding, walking, and playtime.
Keep their living space consistent and set clear boundaries.
Use positive reinforcement for training and be patient. Vizslas thrive with regular exercise, so make sure to provide plenty of physical and mental stimulation.
Create a calm and peaceful environment to help them adjust and feel secure.
With time and consistency, your Vizsla will settle in and feel like a part of the family.
Building Trust through Positive Reinforcement
Building trust with your Vizsla is key, and positive reinforcement is an effective way to do it. Start by rewarding good behavior with treats, praise, and playtime.
Consistency is key – be clear with your expectations and reward your Vizsla consistently.
Use positive reinforcement during training sessions, focusing on small achievable tasks. Avoid punishment, as it can damage trust and hinder progress.
Building trust through positive reinforcement sets a strong foundation for a loving and successful relationship with your Vizsla.
Frequently Asked Questions
How long does it take for a Vizsla to adjust to a new home?
A Vizsla usually takes about 2 to 4 weeks to adjust to a new home.
It's important to give them time to explore and acclimate to their new environment.
Stay patient and allow them to come to you when they're ready for attention and affection.
Creating a consistent routine and providing plenty of exercise will help them settle in more quickly.
Remember to give them lots of love and reassurance as they adjust to their new surroundings.
How should I handle the first night with my Vizsla?
On the first night with your new Vizsla, it's important to create a comfortable and secure environment. Set up a cozy sleeping area with a soft bed and some familiar smells, like a blanket or toy from their previous home.
Consider using a crate to help with their transition and provide a sense of safety.
Keep the room quiet and dimly lit to promote relaxation. Be patient and understanding, as your Vizsla may be feeling unsure in their new surroundings.
Shower them with love and reassurance to establish a bond from the start.
What if my Vizsla shows signs of anxiety or stress?
If your Vizsla shows signs of anxiety or stress, there are a few things you can do to help them feel more comfortable. Firstly, create a calm and safe environment for your dog.
Provide a designated space with their bed or crate where they can retreat to when they need some alone time.
Secondly, establish a predictable routine and stick to it. Dogs thrive on consistency and knowing what to expect.
Lastly, consider using calming techniques such as providing puzzle toys or engaging in soothing activities like massage or gentle music.
Remember, every dog is unique, so pay attention to your Vizsla's individual needs and adjust accordingly.
How can I help my Vizsla bond with me and my family?
To help your Vizsla bond with you and your family, start by spending quality time together. Engage in activities like playing, walking, and training sessions to build trust and create a positive association.
Give them plenty of love and attention, as Vizslas thrive on human companionship.
Establish a routine to provide stability and make them feel secure. Encourage positive socialization by introducing them to new people and animals gradually.
Finally, be patient and consistent in your interactions, as it takes time for a bond to develop.
Final Verdict
Introducing a Vizsla to a new home requires careful preparation, patience, and consistency.
Puppy-proofing the environment and creating a comfortable space will ensure their safety and well-being.
Gradually introducing them to the house, family members, and other pets will help them feel secure.
Allowing time for adjustment, offering structure and consistency, and using positive reinforcement will build trust and facilitate bonding.
Remember, every Vizsla is unique, so be observant and adaptable to their needs.
With a thoughtful approach, you can create a loving and harmonious home for your new Vizsla companion.
Was this article helpful?