How To Help An Older Dog With Arthritis And Other Mobility Problems
The most heartbreaking phase for a pet parent is to see their beloved dog aging. Though the journey of fostering a pet dog is beautiful; there are lots of challenges involved in it. As soon as a dog gets older, he becomes prone to arthritis and other mobility issues as well.
There is no denying the fact that an older dog requires the utmost care and attention. To ensure the good well-being of your aging pet, it is necessary to look after him in the best possible way. In this blog, we would shed light on how you can help an older dog with arthritis and other mobility problems.
You can ease the sufferings of your older dog from arthritis or mobility issues by taking a few measures. You should support, motivate, and adore your pet during such times. Besides this, you must focus on maintaining the good health and physique of your pet. Factors such as diet, and proper medication are beneficial for your furry pal. You can even use anti-skid mats, ramps, and orthopedic beds to provide extra support to your pet.
Arthritis and other mobility issues are common in older dogs than the younger ones. You can help your pet tackle his suffering by following the below-mentioned factors.
Diagnosis at an Early Stage
It is very important to keep a check on your pet's mobility. Early detection of arthritis can help your pet to recover faster. Such sort of health ailments does not develop overnight. The symptoms for the same can occur at the initial stage.
Less mobility in your dog might make him struggle to perform his daily physical workouts. You should keep a check whether your dog can walk, run, and jump. Also, dogs due to inflammation tend to slip on the surface. In some cases, dogs also exhibit stiffness or pain caused by inflammation. Consult a good veterinary doctor if your pet is facing difficulty in such activities.
Regular Walk and Exercise
Moderate exercise and walk facilitate older dogs with arthritis and other mobility issues. Besides this, it also helps to strengthen the joints and muscles of your furry pal. You should maintain a proper workout schedule for your dog. The physical workout would depend on the severity of such health ailments. Those dogs that do not exercise are prone to obesity which can strain their joints as well.
A regular walk for 30-45 minutes is enough for a senior dog. Also, make sure not to over-exhaust your dog. Keep the pace of walking slowly and then increase it. It would assist in improving the stamina of your pet. Do not opt for high-intensity workouts as they are not suitable for older dogs.
Healthy Diet
Feeding your aging pet with a healthy and nutritious diet would work wonders for him. Generally, dogs that suffer from arthritis are prone to getting obese. To prevent this, it is necessary to regulate the diet of your furry pal. If your pet is less active, then hence require less food throughout the day.
Also, split the meals instead of feeding heavy meals to your pet in one go. It helps in weight management as well. Apart from this, refrain from giving sugary foodstuff to your dog as it would add up to his body weight. Make sure to give food items that are rich in Omega-3 fatty acids as they are beneficial for dogs with arthritis. Include a low-calorie diet along with anti-inflammatory ingredients to help your dog heal.
Medications and Home Remedies
There are certain medications and home remedies for an aging dog to improve his mobility. You must not perform self-medication on your pet. Instead, consult a good veterinary doctor to seek the appropriate treatment. Also, do not give an excess of steroids to your dog as it can worsen his condition.
The Adequan injection is good in treating arthritis and other degenerative joint disorders. Also, NSAIDs, known as non-steroid anti-inflammatory works well in arthritis.
Support to Reach Elevated Surfaces
It is very difficult for the dogs to reach onto elevated surfaces due to the pain, and stiffness of arthritis. Your furry pal might not be able to climb the stairs or jump off the couch or bed. To resolve this issue, you can get a ramp or a set of pet steps.
Such gears would help your aging dog to jump off the car or any elevated surface with greater ease. If your dog is having neck or back issues, then get a tray to elevate the food and water bowls.
Bed with a Comfortable Padding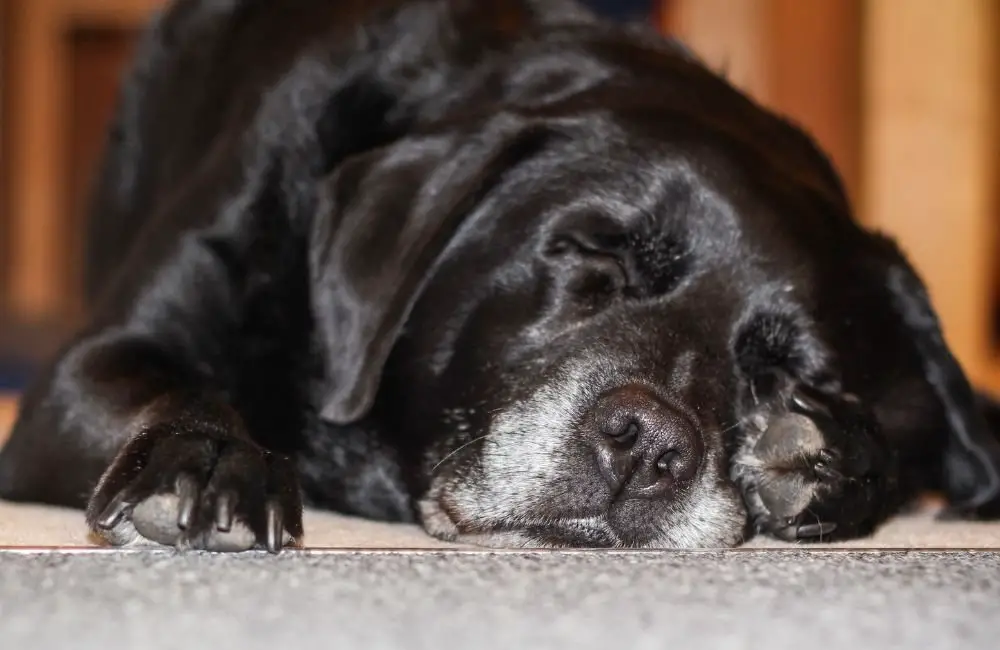 If your aging dog is suffering from sore joints or arthritis, an orthopedic bed is best for his comfort. Generally, the beds with brindle memory foam are ideal ones for dogs with mobility issues. Such beds provide extra support and comfort to your dog.
Besides this, dog beds and cushions with extra padding would also work well. You must ensure that the temperature of your pet's room should be moderate. Sleeping under extremely cold temperatures can lead to stiffness and other mobility issues.
Harness for Relieving Pressure
A harness helps to reduce the strain on the limbs of the dogs. This also helps while walking, climbing, or getting up without straining their limbs. Also, they remove the pressure from the joints by supporting the body weight of your pet. A harness would be very useful if your dog is suffering from leg weakness, dysplasia, or arthritis. In severe mobility disorders such as paralysis, you can even opt for a dog wheelchair.
Therapies and Supplements
Therapies like acupuncture, warm water hydrotherapy, massage, or cold laser are helpful too. Stem cell therapy is also advisable to cure such health issues in pets.
Various supplements like Omega-3 fish oil and immunoglobulin are available on the market. These would be effective in treating arthritis.
Check for Fecal Soiling
If your aging dog has mobility issues, then he would not be able to get up for pee and poop as well. In such cases, the pet might soil himself in urine or feces. Due to this, it becomes very important to check your pet for any signs of fecal soiling. Also, make sure to keep your pet clean and well-groomed to maintain hygiene. For this, you can even use dry shampoo.
Making the Surface Slip-proof
The mobility-impaired dogs tend to slip or skid on the surface due to pain or inflammation. To prevent this, you can place anti-skid mats, rugs, and carpet tiles. You can even get paw-grip socks or toe grips for your older dog to strengthen his grip over the surface. For stairs, you can use stair treads as well so that your dog can climb them without any strain.
Wrap Up
Though older dogs might have mobility issues; it is not right to restrict their activity. You can inspire your aging furry pal to live life to its fullest by adhering to the aforesaid measures.
Arthritis or any mobility ailments of your aged dog is curable. The only thing which you should adhere to is following the treatment to its best. Being a pet enthusiast, you should try to make your aging pal feel younger.
Was this article helpful?