Dogs are one of the most gentle and sensitive living beings and extra care should be taken about their food. You should always focus on keeping your dog healthy so that he might not get prone to various health ailments.
As a responsible pet parent, you should not give those fruits and vegetables to your dog which can make him sick. There are some common vegetables, such as sweet potato, pumpkin, carrot, cabbage, broccoli, etc. that are extremely safe to be consumed by dogs.
Now the question arises whether dogs can eat cucumber or not?
Well, Dogs can eat cucumber but in a moderate amount. Cucumber is non-hazardous to dogs and the only advantage of giving it to them is to reduce their obesity. You can either chop or mix cucumber with their diet to increase its volume without putting in extra calories.
This blog will shed light on the amount of cucumber consumption by dogs and how safe and healthy it is for them.
Is cucumber safe to be consumed by dogs?
Cucumbers are extremely safe for dogs if it is given in moderation. You should avoid giving fruits and vegetables as complete meals to your dogs.
A healthy and balanced diet is required for the overall growth of your dog hence, you should keep other food items in the form of treats.
You should not feed cucumber pickle to your dog as it is spicy and contain certain chemicals that are toxic to dogs. You should prefer raw cucumber for a healthy treat that will make your furry pal happy.
Can dogs eat whole cucumber?
It is not advisable to feed a whole cucumber to your dog as a treat hence, better to stick to the 10 percent rule. Veterinarians suggest that treats should be in proportionate to 10 percent of the daily diet of your dog.
Kinds of cucumber that dogs can have
Cucumber is of two types, slicing, and pickling. You should take the utmost care in this regard and feed only those cucumbers to your dog which are healthy in their overall health and development.
Slicing cucumbers
You can easily locate these types of cucumbers in any grocery store. Their length is usually 8-9 inches with waxed skin so that these can be preserved easily. This type of cucumber is always better to opt for your furry pal.
Pickling cucumbers
These kinds of cucumber are very small and termed pickles. These are blended with salt, sugar, water, or vinegar and can be preserved for long. It is not recommended for your pet.
Should you feed your dog a raw or peeled off cucumber?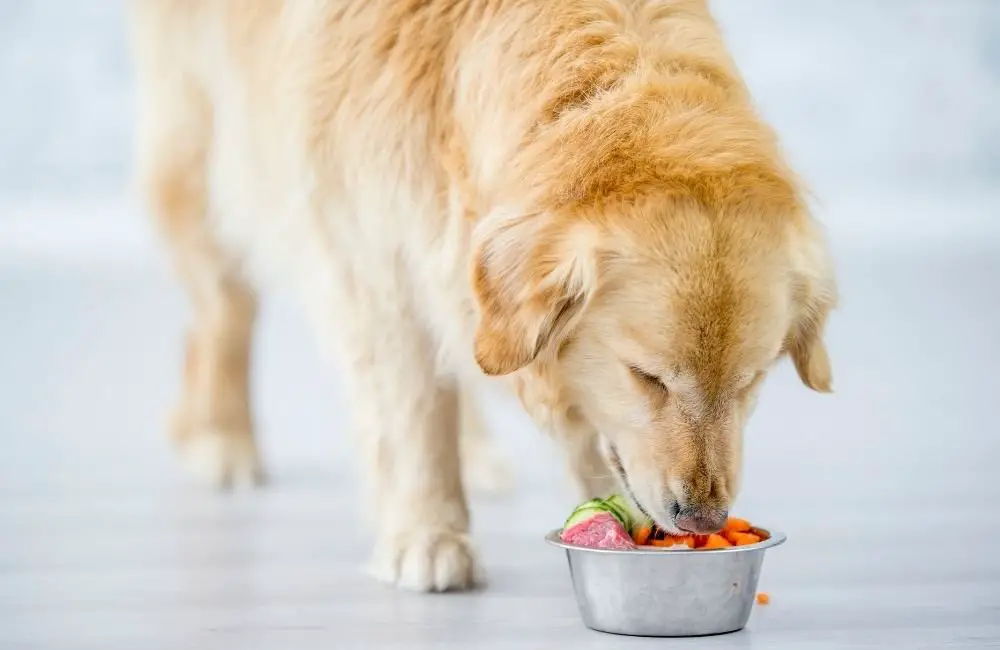 It is highly recommended to peel off the skin of the cucumber and give the same to your dog. Cucumbers can prove heavy on the stomach, if not peeled off. The optimum way to serve cucumber to your dog is by following the below-mentioned steps:
You first need to wash the cucumber and then peel it off so that the insecticide present on the outer skin is destroyed. Now cut the cucumber into thin slices to be swallowed easily by your pet otherwise it will get choked in their throat.
If you are giving a cucumber to your dog for the first time, then give him in a small quantity. You have to simply serve it without cooking. Also, observe your dog the whole day once he has consumed cucumber to see whether its consumption can lead to any health issues.
Pros of consuming cucumber by dogs
We all are well aware of the fact that cucumbers are safe for dogs. They provide various benefits to the dog's health. Cucumbers are enriched with essential vitamins and nutrients that are beneficial for dogs. Therefore, you should plan a healthy diet for your pooch containing all quality proteins, vitamins, fat, and some carbohydrates as well. In this line, you can also offer some fruits and vegetables to your furry pal but they cannot make a complete diet hence, can be given in the form of treats.
Cons of consuming cucumber by dogs
Despite various health advantages, there are some disadvantages as well. You should not feed cucumbers in large quantities or quite often to your dog.
As cucumbers contain an excessive amount of water along with fiber, hence offering an unreasonable amount of cucumber can lead to various gastrointestinal ailments, such as acidity and diarrhea. Your dog may also suffer from stomach pain as well.
Also, you should not give milk or other dairy products immediately after your dog has consumed cucumber as this blend can lead to stomach upset. You should immediately take your pet to a veterinarian if any of the above-mentioned indications start appearing.
Some resourceful benefits of cucumbers
Cucumbers have lots of dietary value for dogs. Some resourceful benefits of cucumbers are mentioned below:
Contain small carbohydrates that will help eliminate the obesity in dogs
Useful for dogs, especially in summers when they are not consuming adequate water for drinking
Make the breath of dogs fresh due to the presence of phytochemicals and phytonutrients
Remove damaging oxidizing agents due to the existence of antioxidants
Provide essential vitamins and minerals to dogs to keep them healthy
Ensure the controlled levels of cholesterol
Regulate the blood pressure in dogs
Combat certain health ailments, such as arthritis and joint pain, etc.
Maintain the good quality of the coat and the skin
Increase the healing capacity of any infection
Cure kidney and other health issues
Wrap up
As it is quite clear from the above facts that you can feed your dog with cucumber but in moderate quantity. It is an ideal vegetable that you can include in your dog's diet.
Moreover, cucumber is composed of several nutrients and vitamins that are important for the overall growth of your dog. To conclude, the health of your loving pooch should matter to you at the end of the day.
Was this article helpful?