Beagles have emerged as one of the most preferable family pets. They are adored across the globe because of their undeniable cuteness, friendly nature, and unmatchable love and affection towards the owner. Beagles have an unmissable charm in them that spellbinds every pet lover. Apart from being cute, Beagles are highly active and pretty much notorious too.
Yes, Beagles can live in apartments. For this, you need to consider a few important factors that are associated with the comfortable and contended stay of your furry pal. Beagles are very active throughout the day and they need space to roam freely. You need to put in the necessary efforts to provide the Beagle with all the facilities for a healthy, happy, and relaxed stay in the apartment.
If you are thinking to bring a Beagle into your apartment, then many concerns must have popped up in your mind. It is always preferable to make a detailed analysis of your surrounding and mental preparedness for fostering a pet and then proceed accordingly. However, Beagles can easily adjust to the apartment lifestyle if proper training is given to them. The below-mentioned are few factors that would help you in guiding towards healthy fostering a Beagle in an apartment.
The personality of the Beagle
Beagles are inquisitive with a left alone in an apartment or a house, they tend to feel agitated. They need regular exercise to remain fit, and healthy.
Beagles become friendly easily towards the strangers as well. Being a vocal dog breed, Beagles sometimes indulge themselves in excessive barking that could become a cause of concern if you are living in an apartment. Besides this, Beagles are intelligent, loving, and gentle dog breed that easily captures the hearts of the people.
Is Apartment Pet-friendly?
This is the most important and fundamental factor that plays a key role in determining whether you can foster a Beagle in your apartment or not. The biggest drawback of living in an apartment is that certain restrictions regarding pets are set up by the society that you need to follow.
Some societies would simply allow the residents to keep a pet whereas some might not. Before bringing a pet in your apartment, you need to follow the rules set up by your society. Quite a time, many societies would emphasize seeking approval from fellow residents for keeping a pet in the apartment.
However, it is always advisable to bring a pet in your apartment only after getting complete approval from the society as it helps in the prevention of future discrepancies. Besides this, if your society would be pet friendly then it would become comparatively easy for your Beagle to live freely in the apartment.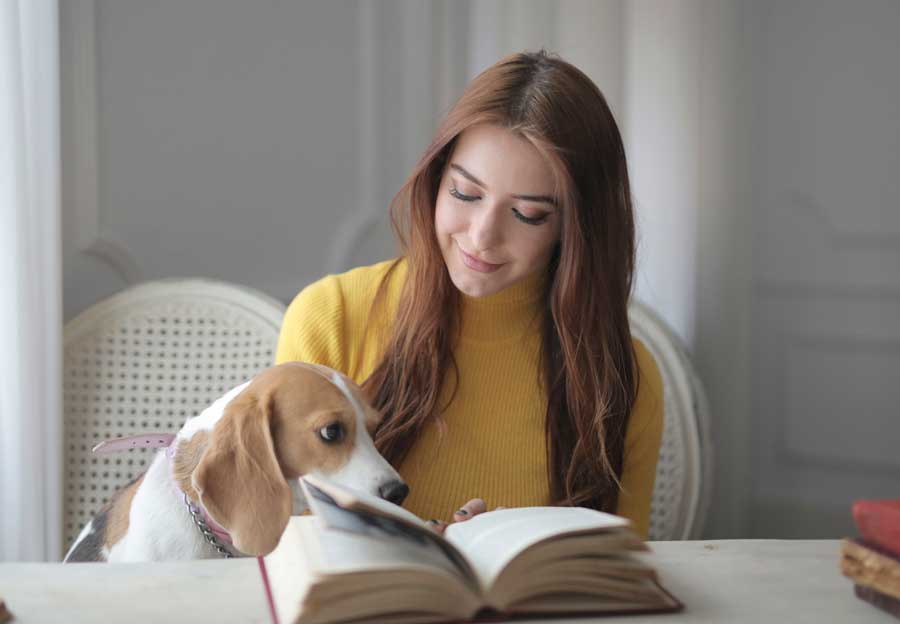 Is There Enough Space in your Apartment for the Beagle?
Beagles are highly active and you would not find them lazing around and sitting in one place. They like to jump and roam freely as these little furry pals are adorable along with a dash of notoriousness. For ensuring a comfortable stay for the Beagle in your apartment, there should be ample space for him to play around.
If your apartment is too congested, then it might become difficult for the Beagle to adjust to the surroundings. On the other note, you do not need a luxurious apartment to foster the Beagle.
All you need is a contented space in any corner of your apartment where you could make a separate abode for your Beagle. Beagles require their personal space and the best way to do is to set up cozy bedding and stuff it with few toys for your furry companion to play.
Presence of a Park Nearby
Living in an apartment has got its limitations, especially in terms of a pet. You cannot leave your pet to roam freely in the compound of your society. Therefore, it is preferable to have a pet-friendly garden near your apartment where you can take your Beagle for his open-air playtime.
Beagles generally hate to get confined in one place. If no park near your apartment allows a pet, then it would become difficult for you to take your pet out for a play.
Also, it is not feasible to visit a park which is located far away from your apartment. Beagles love to play in open-air and for this, you cannot miss out on a pet-friendly garden.
On the contrary, if your society has a garden and it allows pets too, then it would be easy and convenient for you to take your Beagle daily there for his much-needed playtime. For this, make sure that your pet is trained enough to play in the society garden otherwise it can create a mess for you.
Lack of a Backyard
Beagles like to roam and play freely in the backyard. If you are planning to bring a Beagle into your apartment, then you need to allocate a separate space where your pet can roam around without any worries.
Unlike a separate house, you cannot have a backyard in your apartment. In that case, it becomes more necessary for you to create some additional space in your apartment for the Beagle.
You cannot find a substitute for the benefits of having a backyard for your pet; instead, you can focus on providing your Beagle with adequate space. For this, you can even discard or sell out the non-essential things that have unnecessarily occupied most of the space in your apartment.
As mentioned earlier also, you do not need a lavish apartment to foster a Beagle. You can simply re-arrange and organize things in such a way to create a comfortable space for your pet to dwell in.
Coping with the Loud Bark of a Beagle
As compared to most of the small dog breeds, Beagles have the loudest bark amongst all of them. These charming and little furry pals look too cute, but at the same time, they have got one of the most annoying barks of all time.
If you are living in an independent house with your Beagle, then there are no worries at all as there are full independence and ownership. The main problem arises when you bring a Beagle in an apartment.
Generally, in an apartment, there is a lack of privacy as multiple apartments in a building are confined closely to each other. If your Beagle is barking loudly and continuously, especially at the odd hours during the night, then it might end up landing you in trouble. The fellow resident might object to this.
The best way is to train your Beagle not to bark unnecessarily, specifically during the night time. However, you cannot always consider the barking of your pet as a notorious activity.
If your Beagle is barking non-stop, be it daytime or nighttime, there are probable chances that something is causing him discomfort. Unlike humans, dogs cannot communicate, in such cases, barking is their only way of establishing a good communication channel with the owner.
Generally, dogs bark whenever they are hungry or want to pee. You should try to be more attentive towards what your pet is trying to communicate. However, if none of the above-mentioned reasons are behind the bark of your Beagle, then it is best advised to take him to a good veterinarian doctor as your furry pal might be going through some health issue.
Training and Grooming the Beagle to Fit in Apartment Life
Beagles are habitual of roaming in open-air and spacious areas. If you are keeping the Beagle in an apartment, then you would have to train him accordingly. It will help out your furry companion to fit into the apartment life.
Living in an apartment is a lot different as compared to residing in an independent house in terms of space and privacy. You need to teach, train, and groom your pet in such a way that he can adapt the apartment lifestyle easily.
You can show and train your Beagle in a way that he can differentiate between where to pee and where to play. Always keep in mind that pets can adjust themselves as per the environment in which they live. Your pet would mark his territory once you give him the potty training.
It is said that you need to make your pet adjust as per your surroundings, rather than adjusting yourself as per the unnecessary demands of your pet.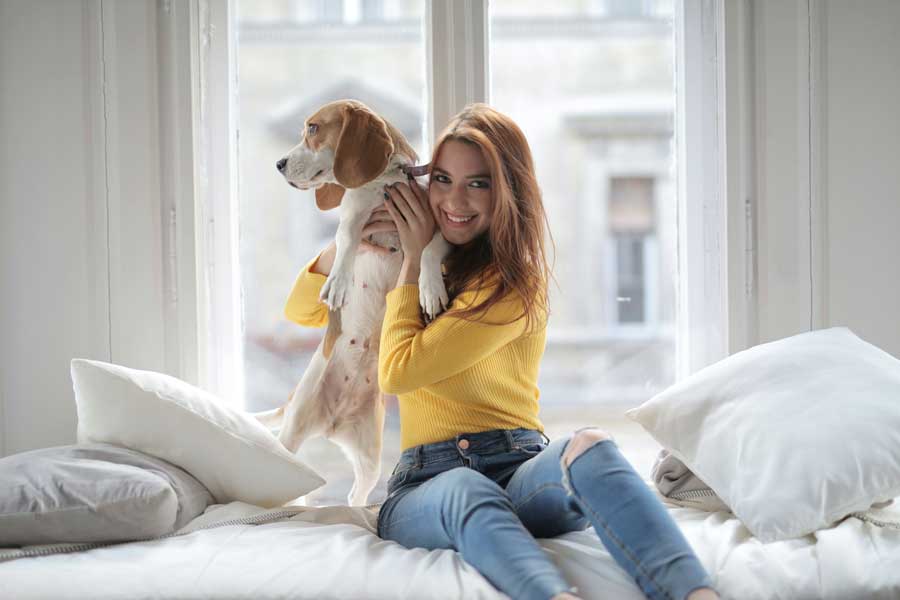 Keeping All the Stuff Well-Organized
Having a pet at home requires the same amount of care and affection that is needed to raise an infant. If you are having a pet at home, especially a friendly yet notorious like a Beagle, then you just cannot keep your stuff lying here and there.
Pets tend to sniff and inspect all the stuff that they see in their surroundings. If you keep things messy and unorganized in your apartment, then there are more chances of your Beagle accidentally ingesting them.
Apart from this, keeping the things de-cluttered in the house would provoke your Beagle to inspect the stuff and he might end up damaging them accidentally. Also, keeping your stuff unorganized can occupy a lot of space in your apartment that you might need for your Beagle.
Try to keep all the things in a well-organized manner. Discard the things which you do not need anymore. Apartments are quite smaller as compared to an independent house that is why it becomes more important to keep the surroundings neat and clean for the betterment of your beloved pet.
Regular Walk and Workout
Beagles need regular exercise to stay fit and healthy. They are highly active as compared to the other small breeds of dog and they need to release their energy quite often. For this, you should take your Beagle out for a walk regularly to maintain his fitness.
To keep your Beagle active and engaged, you need to take him out to a garden where he can play freely. If you are allowed to take your pet in your society compound, then nothing could be better than this.
Devote ample time and attention to your Beagle and accompany him during his playtime as it helps in establishing a strong bond of love, trust, and companionship between you and your pet.
Get lots of attractive and pet-friendly toys for your Beagle as it would keep him engaged. You can even play games such as go-fetch, tug-of-war, and hide-&-seek with your furry pal to indulge him in physical activities.
Introduce the Beagle to your Neighbors
It is necessary to introduce your pet to the neighbors and other fellow residents of the apartment. It would help your Beagle to familiarize itself with the people around the apartment. By doing so, the fellow residents would also become conversant towards your pet.
Pets tend to bark whenever an unknown person pays a visit at home. If your pet recognizes the neighbors, then he would not bark at them. Beagles are friendly and they can socialize in a much better way than the other dog breeds in the segment.
Do not keep your Beagle confined under one roof. Take your furry pal outside the apartment and make him aware of the people and things around him.
However, if your pet gets aggressive, then during such instances only keep him confined in the apartment. Besides this, you can freely take the Beagle in open-air to relish the surroundings.
Socializing is the Key
You should focus on allowing your pet to get socialized with the other pets in the apartment. Like humans, pets also need to socialize. Take your pet out and introduce him to the other pets of the society. It also helps in enhancing the mental health and wellness of the Beagle.
However, getting socialized does not imply that your pet should get along well with every dog or person that he sees. You should make sure that your Beagle is trained and possess proper etiquettes as per the apartment living.
Lack of socialization could make your Beagle aggressive and can also lead to depression. Therefore, you should not limit your Beagle only to the apartment as it is very necessary for the pets to get familiar with the surroundings, this helps them to get a better understanding of people and things.
Attention, Affection, and Care
Beagles love to seek the attention of their owners. If you have recently shifted to an apartment from an independent house or you have recently brought Beagle into your apartment, never make your pet feel lonely and insecure.
Give your time, attention, love, and care in an immeasurable amount to your beloved pet. It helps in making your furry companion feeling secured and contented. Also, make sure that you do not leave your Beagle alone in the apartment for long hours.
Do not leave your Beagle unaccompanied or unattended during your presence in the apartment. Pets tend to feel insecure quickly and if you are keeping the Beagle in an apartment, then you would need to focus on how you can improve the emotional and physical health of your pet.
Pets do communicate but only to those who are willing to listen. Talk to your pet and watch out his actions as it can denote a lot. Keep your eyes on the Beagle as this dog breed is notorious and loves to move freely without any restrictions.
Regular Cleaning
Beagles do not like to stay in one place, so you cannot keep them confined to one corner of your apartment. You need to allow your pet to explore every corner of the apartment to get familiarized with the things.
If your Beagle is habitual of roaming freely in the apartment, then you need to pay extra attention and put in some more effort to keep your apartment clean and well-maintained. You should clean the apartment regularly to maintain cleanliness and hygiene. You can even use an automated vacuum cleaner for cleaning the apartment.
Things to do
It is not necessary to spend a hefty sum of money to ensure a good and happy space for your pet. You can easily keep a Beagle comfortable in an apartment. In this regard, all you need to do is to follow the below-mentioned tips:
Give your Beagle proper training. If you are unable to do so, then you can even hire an experienced and professional dog trainer to teach your pet the basic etiquettes and behavioral commands.
Let your Beagle sniff the surroundings freely and peacefully. Help your pet to become familiar with the apartment lifestyle.
Reward your Beagle with pet treats whenever he obeys your command or does something good. It would boost the morale of the pet and motivate him to do better.
Brush and groom your Beagle regularly to maintain the texture and quality of his coat. All dog breeds go through the shedding period and during that phase, do not forget to brush your Beagle regularly in a specific corner of your apartment to prevent the shedding hairs from falling everywhere.
Wrap Up
Beagles can easily adjust themselves as per the living standards of the apartments. However, you need to set up certain boundaries for your furry pal to help him differentiate between what is right and what is not.
Beagles are a highly energetic breed and need mental and physical stimulation to stay fit. You can easily keep your Beagle healthy, happy, and comfortable in an apartment by giving him endless love, attention, and of course regular workouts!
Was this article helpful?